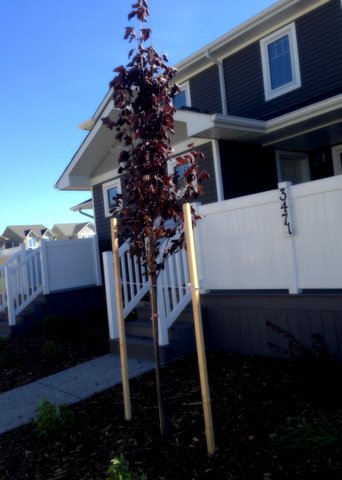 Hawkstone Village is a brand new 2 storey townhouse project located in Regina's newest NW development, Hawkstone, close to schools, shopping and services. Hawkstone Village, is a partnership project with Varsity& Gilroy Homes and has the benefit of a builder/developer with 30 years' experience in custom home building in Regina. They have a solid reputation for the quality of their product, and it shows in this project! We, your Trusted Regina Real Estate team, are happy to represent this project .
The 1023 sq ft 2 storey townhouses, with undeveloped basement space, are now starting at $255,000 (including GST). You can choose from 6 colour combinations for your interior finishing based on your taste and If you are on a short timeline we have designed some great units that are move-in ready, or you can customize your own. The 2 bedroom, 1.5 bath units have standard finishes including carpet & linoleum (upgrade options for laminate & tile), shaker style cabinets in 3 colours, 2 choices of lighting packages, blinds package, $3200 appliance credit, as well as upgrade options for central air conditioning & granite countertops. One electrified parking stall is included with the option to purchase a 2nd stall.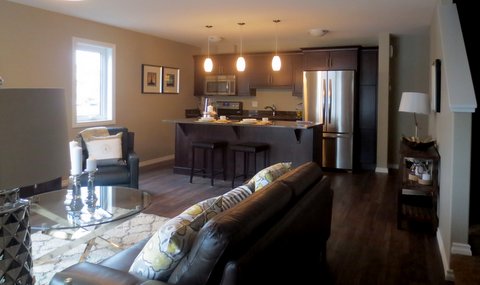 You can check out more details in our video tour:
http://www.trustedregina.com/blog/post/2014/12/09/W2-Realty-Trusted-Regina-Real-Estate-team-tour-of-Hawkstone-Village-Regina-Townhouses.aspx
Our show suite is located at 3469 Elgaard Drive, facing Rochdale Boulevard, weekends 2-4PM or call to schedule an appointment for viewing or for more details!
www.w2realtyteam.com
www.hawkstonevillage.ca
Happy home shopping!
Karin & Jen